About ECH
Entrepreneurship and Career Hub (ECH)
Entrepreneurs with disruptive solutions are in risky early stages, which need maximum support in mentoring in to the right way. To develop such interdisciplinary platform, University of Rajasthan created Entrepreneurship and Career Hub (ECH), which provides incubation facility with international quality equipments, infrastructure, research, training and mentoring to the students, entrepreneur, start-ups and faculty working on innovations in various subjects.
ECH supports
Ideation:
Ideas come by interaction with experts in the field.
Incubate:
Come with your idea and become an entrepreneur.
Competitions:
Test your technology level and inspire other.
Fund seeker:
Explore the funding opportunities in with our govt. and private agencies.
Sell your innovation:
Meet our network companies who can buy you innovations.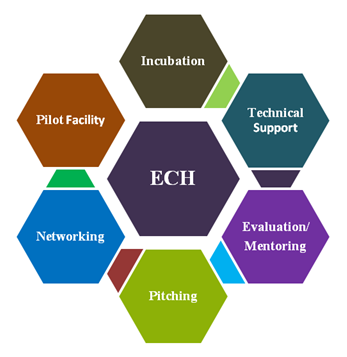 Vision:
To create state-of-art Incubation Centre for basic and advanced facilities catering to incubators who can choose entrepreneurship as alternative in various streams.
Mission:
Facilitate and mentor innovators and translation of innovative idea into products and services by the industry and promote industry academia collaboration and encourage techno enterprise and enable creation and sustainability enterprise.
Focus:
Empowering and enabling the innovation ecosystem for affordable product/ technology development.